Finding Emails
A short introduction to NEO Find
NEO Findís main features.

View tabs
| | |
| --- | --- |
| | All your emails are automatically organized into Correspondent folders for you. |
| | Enter your search words and NEO automatically searches across all your folders. |
| | You can view your Outlook folders just as in Outlook. |

How NEO Find works
NEO Find organizes all your emails automatically using Virtual Folders.
No need to search for your emails as you know exactly where they are!
Virtual
Folders

NEO displays the same message automatically for every Correspondent involved in the correspondence:
††††††††††††††††††††††† <![if !vml]>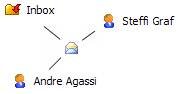 <![endif]>
Finding Messages Quickly
Use the Correspondent to find all your messages
F5

Click the Find Correspondent button on the toolbar (F5). If looking for Fiona Mackay, enter mac in the Folder List filter to short-list your Corresondents for easy selection.


The green background color tells you that you have a Folder List filter active.

To clear the filter, click Clear or press the Esc key.
Search within a Correspondent folder
<![if !vml]><![endif]>

F6

Highlight a Correspondent and click the Search in (Correspondent) Folder button (F6) to quickly search through the mails from a single correspondent.

<![if !vml]><![endif]>
Search on Conversation
F7

Highlight a message (e.g,. with Subject Product Ideas) then click the Search on Conversation button (F7) to find all messages in the same conversation.
Free Search
F8

Click the New Search button on the toolbar (F8) to do a full search through the entire Outlook system producing lightning fast results.

You can even enter logical phrases like (car or bus) near accident.

Or enter parameters to limit your search such as searching within a folder.
Jump to containing folder(s)
| | |
| --- | --- |
| <![if !vml]><![endif]> | Right-click any message and choose Jump to Folder (Ctrl+J) to display all messages for the person from the email, in this case, Terry Johnston. |