Yeah, I've Got Mail
Caelo's Email Organizer creates order from chaos.
by Roberta Bragg
February 25, 2003
March 2003 — I'm not much for technological frippery. Just give me the basics and I'm happy. If it hadn't been for Object Linking and Embedding in the early '90s, I'd have stuck with Unix and DOS. I'm not averse to new ideas, but they have to rock my socks off for me to accept them into my daily life. I'm a pretty straight-up Windows gal—no third-party products for me. So it came as a surprise that I'd actually like Nelson Email Organizer (NEO).
This review isn't my customary load-the-pristine-environment-and-let-'er-rip. This time, I took the forbidden path to Shangri-la; I loaded NEO on my laptop and let it have a shot at the 7,000 stored messages and the daily deluges of mail—junk and otherwise. Frankly, I thought a practical report vs. a lab one might be more useful. Besides, how would I know if NEO's organizational style could be useful if I didn't give it real-world data to tackle?
This tool works with Outlook 97 and higher, but not Outlook Express. It doesn't change or modify Outlook's management of your e-mail—it merely serves as an indexing tool and reorganizes all of your correspondence. The index, or catalog, is a database of pointers into your message store and a complete word index of all of your messages. There are two benefits: First, NEO can display references to your mail in more than one place, providing views that fit the way you work. Second, searching for one message out of 7,000 can be found in a couple of seconds.
NEO's Hot View quickly became the place in which I worked. It organizes mail into Active Mail (my undeleted mail from the last several weeks); To Do (I refer the message here for follow-up); Recent Mail, including Today, Yesterday, This Week and Last Week; and mail from those correspondents I designate as Important. Having their names on this essential page allows me to see that I have an unread message from any of them, providing a great way to ensure they get quick attention. Nothing's perfect, though. The real mettle of a product is discovered when we have to turn to the support desk for help. Unfortunately, the support desk is usually prepared to deal with questions that anyone can find in the Help section of the product. So when I approached NEO for help with some product hangs and illegal memory-access messages, I expected the worst.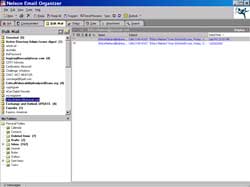 NEO places subscription lists and unfiltered spam in the Bulk Mail view for easy organization. Click image for larger view.
We corresponded for a while and I was thinking, "This must be what therapy's like." I provided the details of what was happening through the "e-mail support log," which can insert NEO logs into my e-mail message. Yet someone sorted it out by asking questions and providing responses that actually fit the problems. The conversation continued as I relayed each crisis and was asked to try something new. Like therapy, we didn't solve all my problems, but I feel better about them. Actually, I think I've found the answer. Although I'm convinced I did it on my own, I'm thankful for the great support I received.
By the way, I can still access all of my Outlook folders, and all the rules still work. NEO just made the management of my correspondence more streamlined. I actually look forward to checking my e-mail now, knowing my faithful assistant, NEO, has already organized it.