March 1, 2000
Press Release
Source: Caelo Software Inc.
Caelo Software receives prestigious Branham 250 Award
Nelson BC – Caelo Software Inc. announced today that it has been included in Branham 250 list in the section for UP-AND-COMERS, recently published in The National Post.
About the Branham 250 Award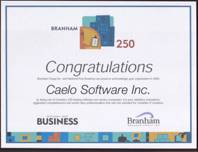 The Branham list, now in its seventh year, is sponsored by Branham Group Inc. The Branham Group provides leading-edge research and consulting services to its clients with a particular focus on e-business transformation. Firms included in The Branham's 'up-and-comers' list are those that show great potential in the IT industry, whether it be in a new technology area or in optimizing existing technology in an innovative manner.
About Caelo Software Inc.
Established in 1997, Caelo Software Inc. is dedicated to the creation of email productivity technologies and software. Based in Nelson BC Canada, Caelo is aggressively targeting the global market of frustrated, email-overloaded consumers.
About Nelson Email Organizer
Caelo's flagship product, Nelson Email Organizer, is the only desktop product specifically designed to address all aspects of email overload. It's based on a new technology that makes automatic organization of email possible for the first time.
"Instantly organized email – that's what Nelson gives you," says Tom Gibson, Product Manager.  "This is a new way to use email, and our users love it. Messages are easy to find, and searching is nearly instantaneous - a real breath of fresh air."
Existing email programs are based on an outdated technology – a single Inbox where messages pile up. In contrast, Nelson uses indexing technology to automatically display the same message in new and different ways.  Breaking away from the old Inbox model has enabled Caelo to develop a program that fundamentally changes how people use email.
Nelson Email Organizer works with Microsoft Outlook 97, 98, 2000 and Microsoft Exchange Server mailboxes. You can use Nelson alone or use it with Outlook.
To see our press kit, visit http://www.caelo.com/presskit.html. For other information, visit http://www.caelo.com and/or call Tom Gibson at +1 250.354.5582.
Product names mentioned herein are the trademarks of their respective owners.
# # #